"We need more information for Rough Draft Studios!"
This page is missing some information and is a stub. Please help us edit this page to improve it.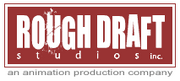 Rough Draft Studios, Inc. (RDS) is an American animation production studio based in Glendale, California, United States, with a second studio in Glendale and its sister studio Rough Draft Korea located in Seoul, South Korea. Rough Draft Studios was founded in Van Nuys, Los Angeles, California by Gregg Vanzo.