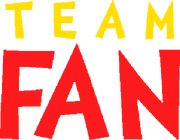 Team Fan is an American animated comedy sitcom created by Nadjib Mansouri for Nickelodeon. It first premiered on March 21, 2004 with the episode "An Inanimate Formulation", which led to a series of 10-minute episodes.
The characters first appeared on the demo that Nadjib pitched to Sunbow Entertainment on March 10, 1998. The cartoons were adapted into a television series in March 2004. The success of the show's premiere helped Red Flag Productions and Frederator Studios make a feature film, The Team Fan Movie. Team Fan met with positive reviews and became one of the most successful Nickelodeon shows along with Spongebob Squarepants and The Fairy OddParents.
Team Fan is a joint production by Red Flag Productions, Frederator Studios and 20th Century Fox Television and syndicated by 20th Television.
The following is a list of episodes of the series listed by season.
Episodes
Season 1 (2004-2005)
| № | # | Original airdate | Title |
| --- | --- | --- | --- |
| 1 | 1 | March 21, 2004 | "An Inanimate Formulation" |
| 2 | 2 | April 5, 2004 | "Truth or Dare!" |
| 3 | 3 | April 16, 2004 | "Team Cheesy" |
| 4 | 4 | April 25, 2004 | "An Inanimate Imagination" |
| 5 | 5 | May 7, 2004 | "Don't Lay a Finger On Paintbrush's Vase!" |
| 6 | 6 | May 14, 2004 | "Something's Under The Bed" |
| 7 | 7 | May 21, 2004 | "Lightbulb Time" |
| 8 | 8 | May 28, 2004 | "My Best Friend Chair" |
| 9 | 9 | June 10, 2004 | "Time Freeze!" |
| 10 | 10 | June 18, 2004 | "A Toaster Problem" |
| 11 | 11 | June 26, 2004 | "Good Ol' MePhone" |
| 12 | 12 | July 9, 2004 | "Lightbulb the Brave Hero" |
| 13 | 13 | July 16, 2004 | "Power Outage!" |